Static trade show displays are a thing of the past. An interactive trade show booth experience is where it's at. That means building elements of engagement into your booth design.
As a smart consumer, you probably do your research and comparison shopping online. Your potential customers do the same. Whether they're buying a new car for the family or investing in new software or technology for their business, the information they need is a few keystrokes away.
So when these business decision-makers with purchasing power show up at your booth at a conference or trade show, they don't want to read a product brochure, they want to experience that product, service or technology first-hand.
If you want to build brand loyalty, think the five senses: taste, sight, touch, smell and sound. At an event like Seafood Expo North America, held each March in Boston, exhibitors can easily engage prospects at their booth and have them experience their product with all five senses by cooking and offering booth visitors samples of fresh seafood. But what if you're not selling shrimp?
3 Best Ways to Engage Booth Visitors
Product Interaction. One sure-fire way to have your prospects interact with your products is to give them a space to directly engage with merchandise.
Product enclosures and creative shelving are two key exhibit design elements that will provide an interactive experience for your booth visitors.
Product interaction is one area where many exhibitors are missing the boat. According to a report by the Center for Exhibition Industry Research on how to build engagement into booth designs, only 46 percent of exhibitors offer interactive product displays, yet 78 percent of attendees will use these resources when available.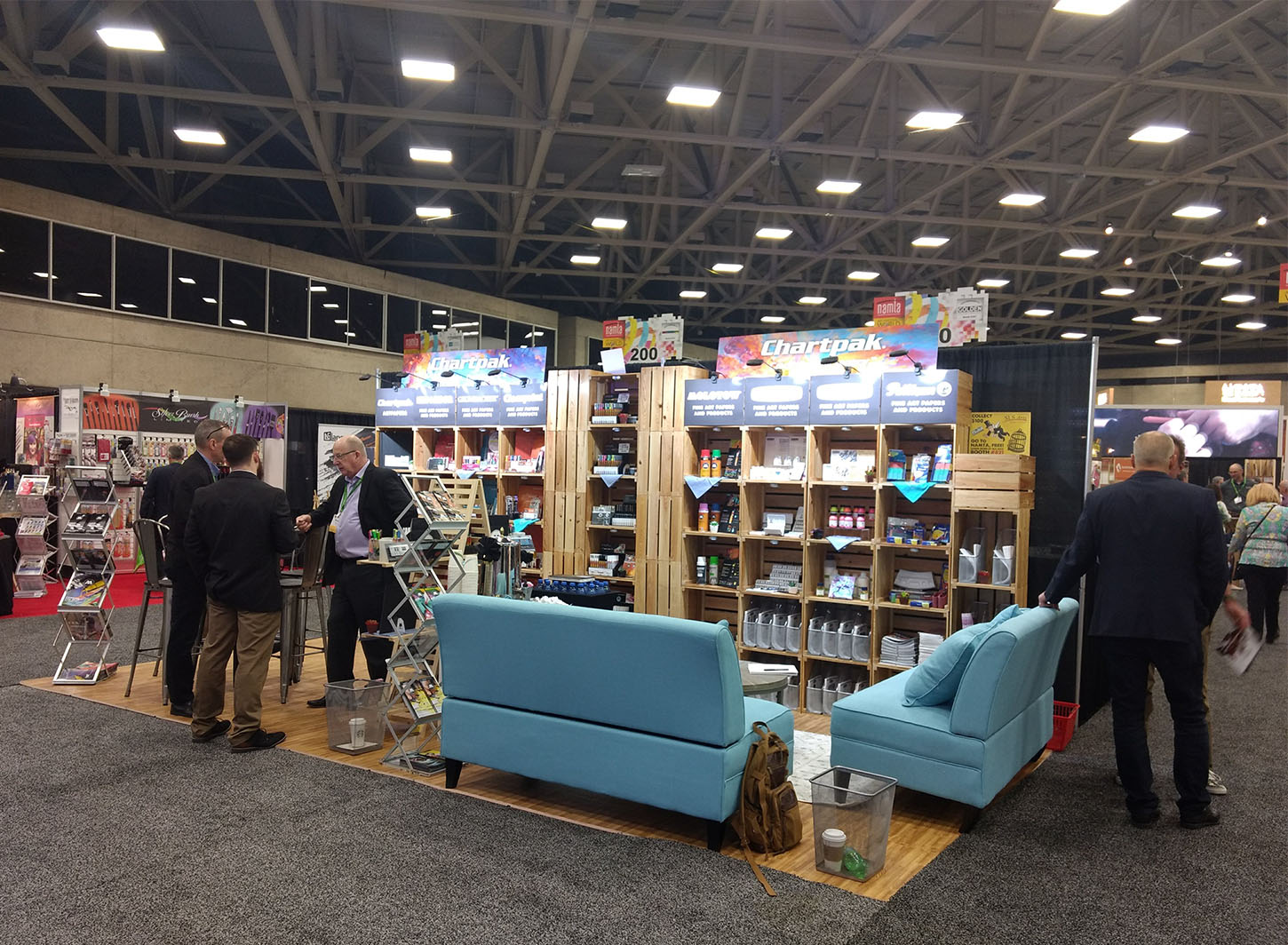 Our client, Chartpak, understands the power of interactive displays. Chartpak is a manufacturer and distributor of graphic and design products including art materials, fine writing, craft and hobby, and office products. They consulted with a member of our exhibit design team to come up with a creative, lightweight shelving solution to display their products at NAMTA's Art Materials World 2018 held in Dallas earlier this week.
The result was an eye-catching 10′ x 20′ exhibit consisting of stacked and stabilized wooden orchard crates that gives customers easy access to the products on the shelves. Bold signage and LED lights highlight the various brands of artist supplies Chartpak carries.
Incorporating comfort-tile flooring that mimics the natural wood of the fruit crates help give the exhibit a brand-consistent theme. A comfortable seating area at one end of the booth invites visitors to sit and stay awhile and also serves as a place for one-on-one meetings with booth personnel. The lightweight shelving helps lower shipping costs.
Presentations. Live presentations are a successful way to drive potential leads from the aisles into your trade show booth.
Seating is an important consideration. Larger booths may require additional screens that project an up-close view to help keep the audience engaged. Choosing the right presenter is key. You want a dynamic speaker, someone who not only knows your product or technology well, but can communicate its benefits clearly, concisely and enthusiastically to your audience.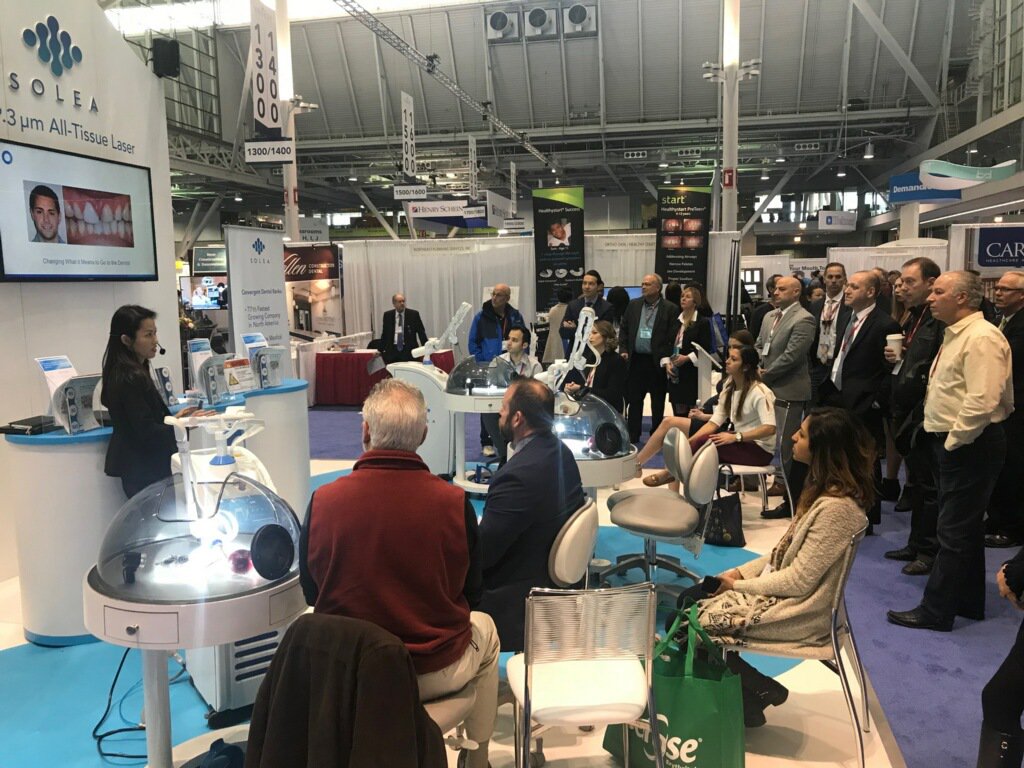 We worked with, our client, Convergent Dental, to create a 20′ x 20′ island booth that allowed for both live presentations and hands-on demonstrations of their all-tissue laser. During the 2018 Yankee Dental Congress held in Boston in January hands-on demo stations doubled as seating for the presentations.
The presenter drew and held a standing-room only crowd with the help of a microphone, speakers and large screens mounted on the booth, which provided up-close examples to illustrate her talk.
Demonstrations. There's nothing more powerful than letting show attendees experience your product first-hand.
That can be through a hands-on demo or by watching an actual customer demonstrate your product live in your booth. For example, Convergent Dental gives dentists a chance to try its laser technology while seated at specially designed dome-covered workstations in its booth at events like the Yankee Dental Congress.
Our client, ReWalk Robotics, develops, manufactures and markets wearable robotic exoskeletons for individuals with spinal cord injury that allow them to stand and walk again. ReWalk was an exhibitor at the Combined Sections Meeting (CSM) of the American Physical Therapy Association (APTA) in New Orleans last month, which drew more than 17,000 attendees.
Their trade show display featured testimonials, images and video of individuals with lower limb disabilities who are able to walk wearing the ReWalk exoskeleton. The battery-powered system features a light, wearable exoskeleton with motors at the hip and knee joints.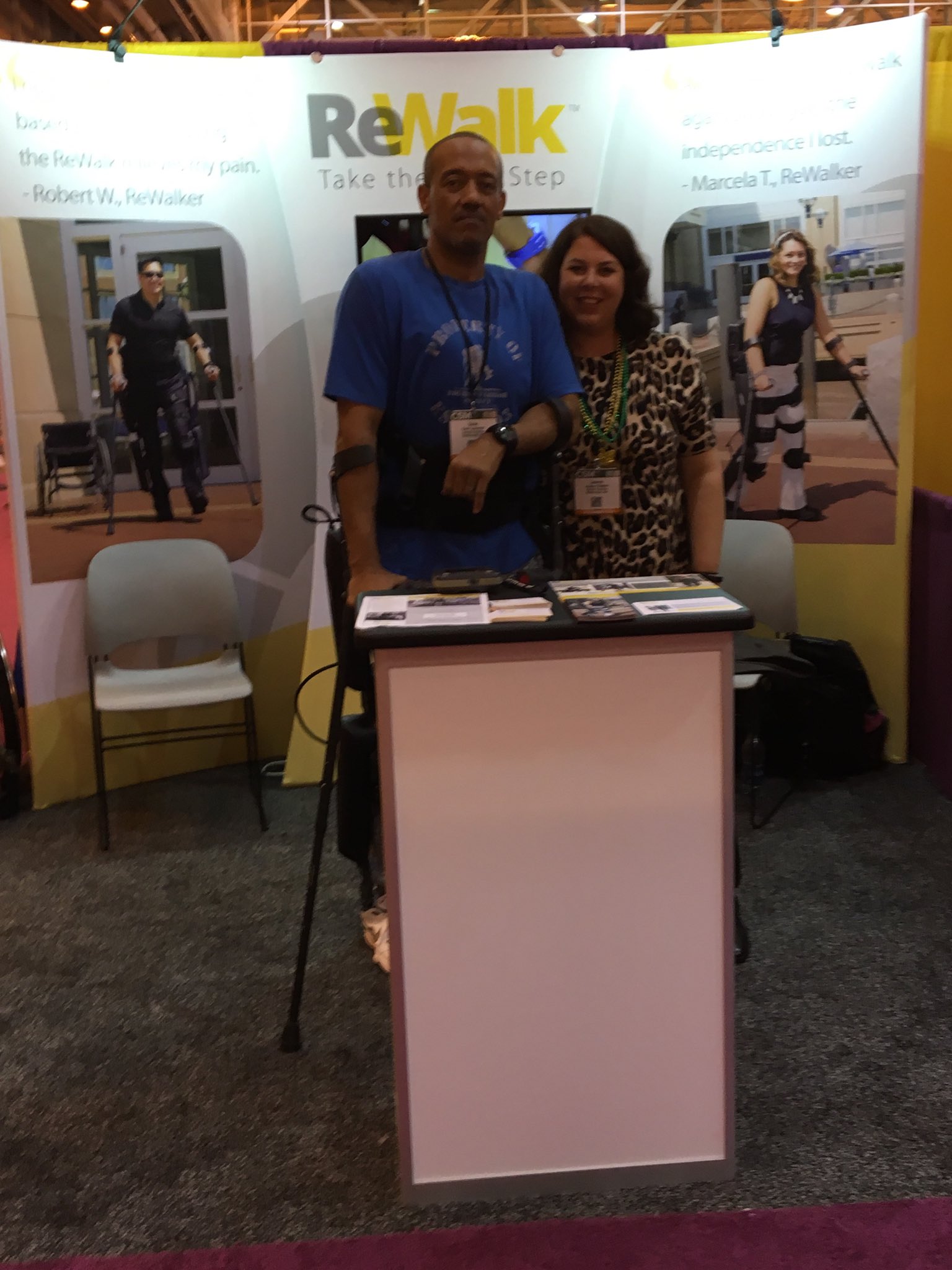 What attracted an audience and set its booth apart were the live demonstrations of an individual who was unable to walk, putting on the ReWalk system, standing up and walking. Having a ReWalker (someone who uses the ReWalk system) available to engage with booth visitors and show the system in action and talk about its impact was a dramatic way to demonstrate the product's effectiveness and leave a lasting impression on show attendees.

So which of the top 3 tools of engagement should you use for your trade show booth: product interaction, live presentations or hands-on demonstrations? What method or methods you choose to engage and educate your prospects will depend on your audience, your goals and your particular brand.
You may use one, two or all three of these approaches to allow your booth visitors to interact with your product, service or technology and to convey your brand's story. One thing is for sure, it's a lot easier and more effective to build engagement into your booth design on the front end, when you're first meeting with your exhibit solutions partner, than it is after your new custom exhibit has been signed, sealed and delivered.