My dad is a professional photographer so I learned early on that the best photographs, like the best exhibits, have certain design elements in common. The right composition, lighting and color produce a dramatic image that tells a story. If the image on your exhibit is not telling your brand's story it may be time to update your trade show display.

Tips For Designing Your Trade Show Display
Take your time when choosing graphics, logos/messaging, and lighting for your exhibit as you want these three design elements to come together to create a vibrant, attention-grabbing trade show display that nails your brand personality. The best exhibits clearly communicate their brand personality. If you do this it helps customers develop an emotional connection with your brand and gain a familiarity and trust in it.
Interactions LLC updated the graphics and header on its trade show display to reflect its brand personality. The prospect-centered image combined with clear and concise messaging quickly convey its value proposition, which will attract booth visitors. The blue in the header will put booth visitors at ease because the color blue is associated with these emotions: trust, calming, reliable and responsible.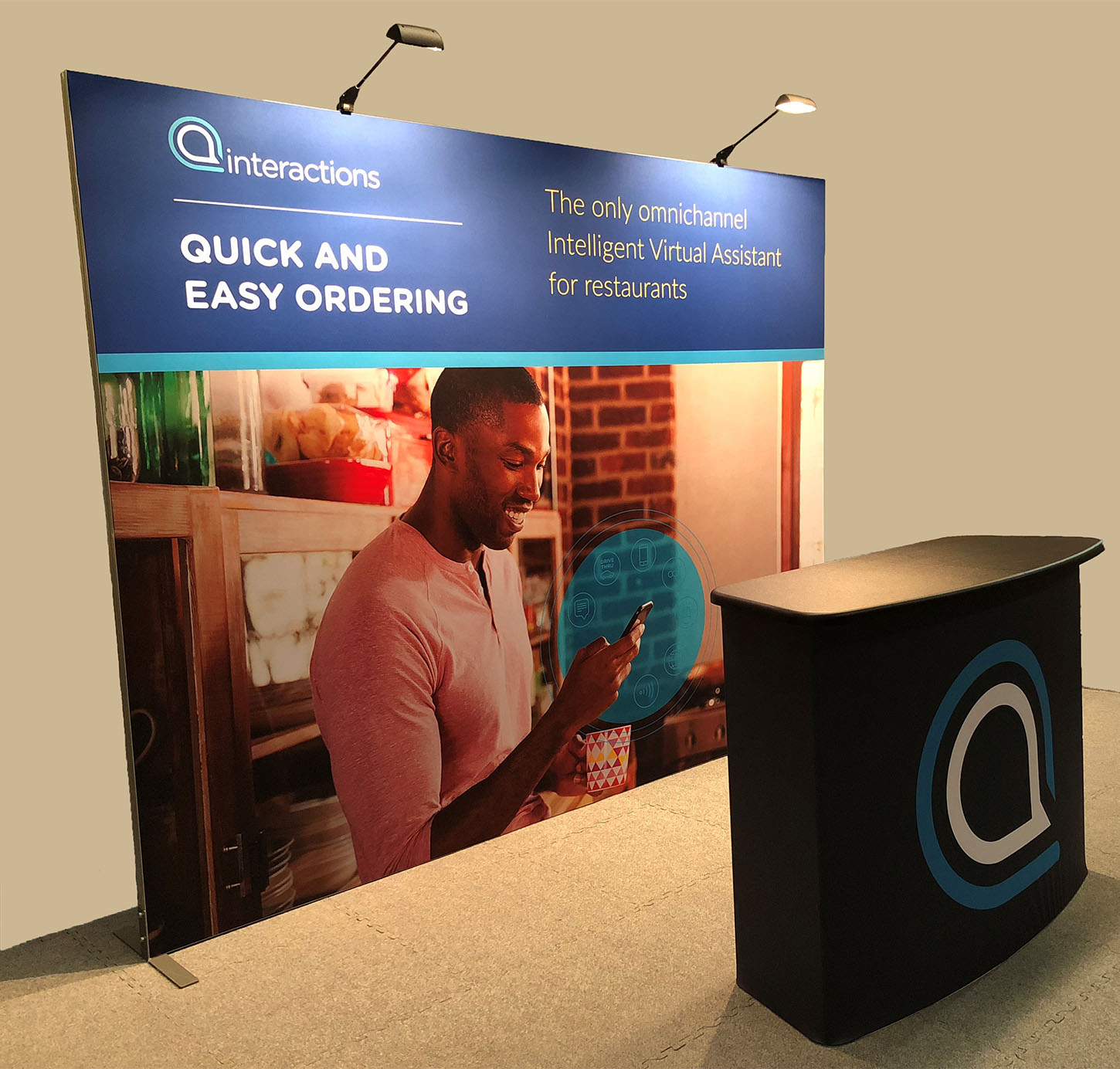 Graphics – Simplicity is the key.
They say a picture is worth a thousand words and that's certainly the case with trade show displays. All you need is a single large illuminated image as your focal point with clear, concise messaging that tells your brand's story and communicates your value proposition. The ideal image shows someone using your product.
ReWalk's trade show display features images of individuals wearing the ReWalk exoskeleton system to enable them to walk. When exhibiting at conferences and trade shows, ReWalk incorporates video and live demonstrations of customers it calls "ReWalkers" using its product to further reinforce its brand personality.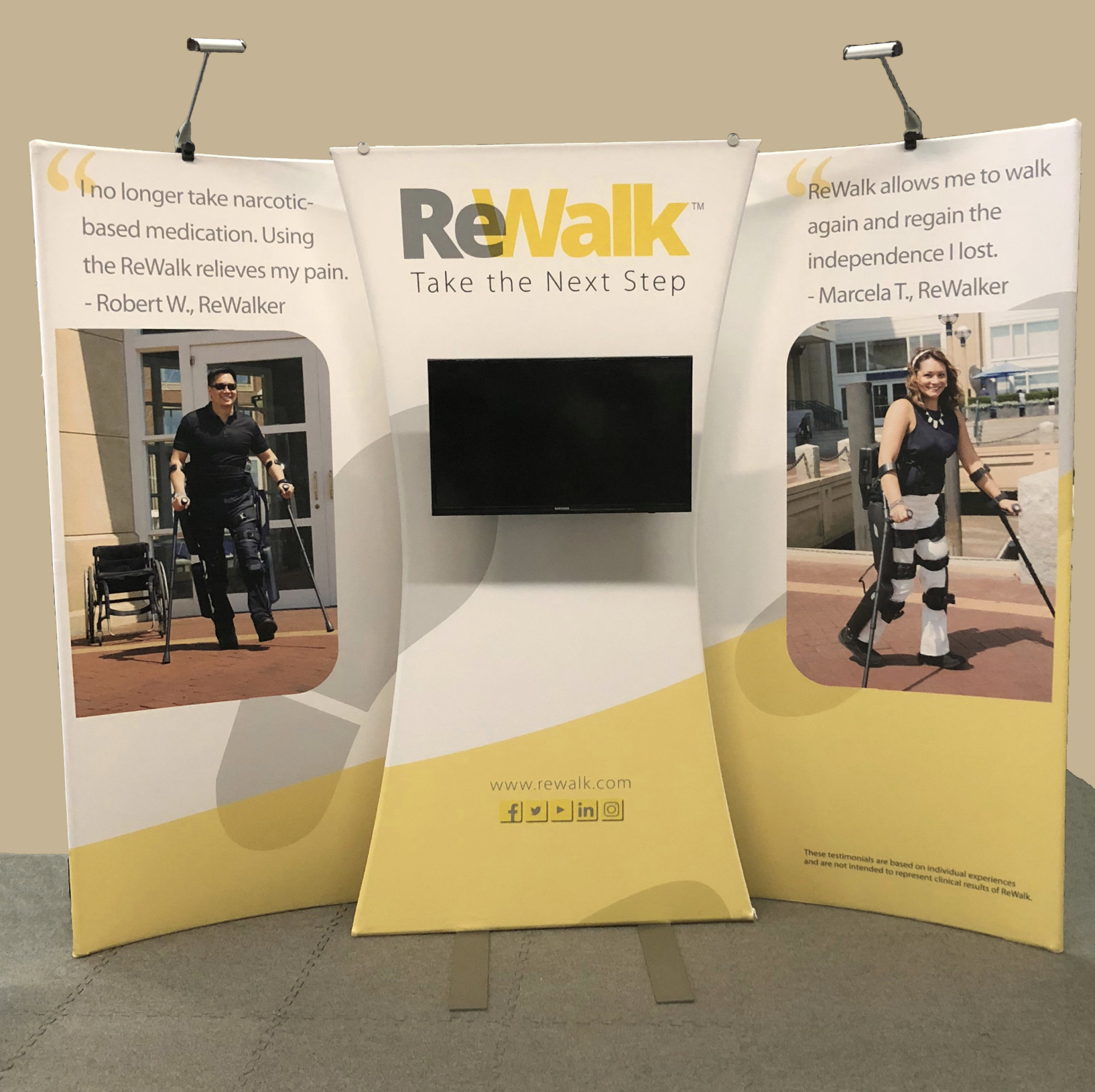 Ideally, you want a prospect walking the show aisles to glance at your trade show exhibit and be drawn in by your trade show booth design. This will occur if your graphic successfully conveys three things: 1) how your product or service solves their problems, 2) what specific benefits your product delivers and 3) why they should buy from you and not from the competition. Hiring an experienced graphic designer will help to ensure a powerful impact.
Logos and Messaging – Divide your vertical graphic space into four tiers.
Tier 1 – Reserve the top quarter of your exhibit space for your brand's logo or flagship product, the bigger the better. It should be visible from at least 25 feet away. Island and peninsula exhibits do not have the same height restrictions as inline booths and may include a hanging sign, which can be seen from across the exhibit hall.
Tier 2 – The second quarter should contain your tagline. It needs to encapsulate both what your company does and what particular innovation or expertise sets your company apart. What is your edge?
Tier 3 – The third quarter of your booth space should be at eye level or slightly above and include images and text that identify key products or services.
Tier 4 – Keep in mind that the bottom quarter of your vertical exhibit space may be blocked by your booth staff and visitors or booth furniture and accessories so while images could appear here, avoid placing text or important graphics at this level.
Type fonts for your messaging should be easy to read from a distance of 10 feet and consistent. Stick with 1 to 3 typefaces to maximize readability.
Lighting – Highlight the most important parts of your trade show display.
The importance of lighting is threefold: 1) It sets the tone of your trade show exhibit design. 2) It draws attention to the most important areas of your booth. 3) It attracts trade show attendees to your booth.
There are several different types of lighting you can use to bring your display to life, such as, backlit lighting, display case lighting, spotlight lighting and lamp lighting. Lighting is an integral part of any exhibit design and your exhibit company can provide you with options and guidance on the placement and the type of lighting that will showcase your products and messages and illuminate your brand.
Maxon Motor uses backlit lighting and display case lighting in its booth to highlight key products and its brand.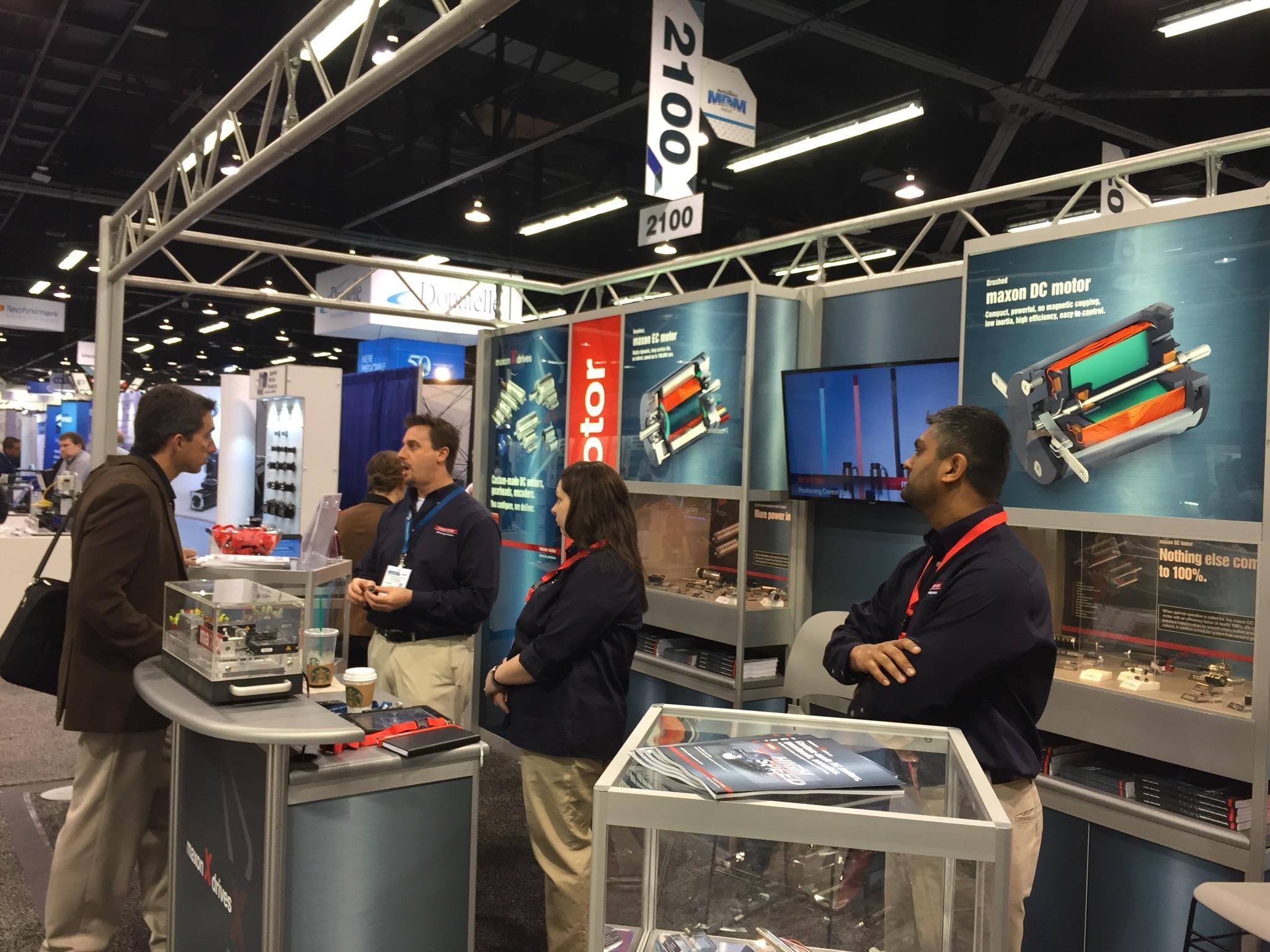 So now you know how the best trade show booths attract new prospects. Remember, understanding the three essential elements of trade show booth design: graphics, logos/messaging and lighting, will not only increase brand awareness and help you become a better exhibitor, it will build brand loyalty and trust.