Spring is a time of renewal and growth. It's also a perfect time to review your show strategy for creating one of the best trade show booths for 2017. One sure-fire way to spotlight your brand and increase traffic to your trade show booth is to add a hanging fabric structure. Also consider the benefits of expanding your booth size or selecting new flooring. If you didn't budget for it this quarter, renting is always an option.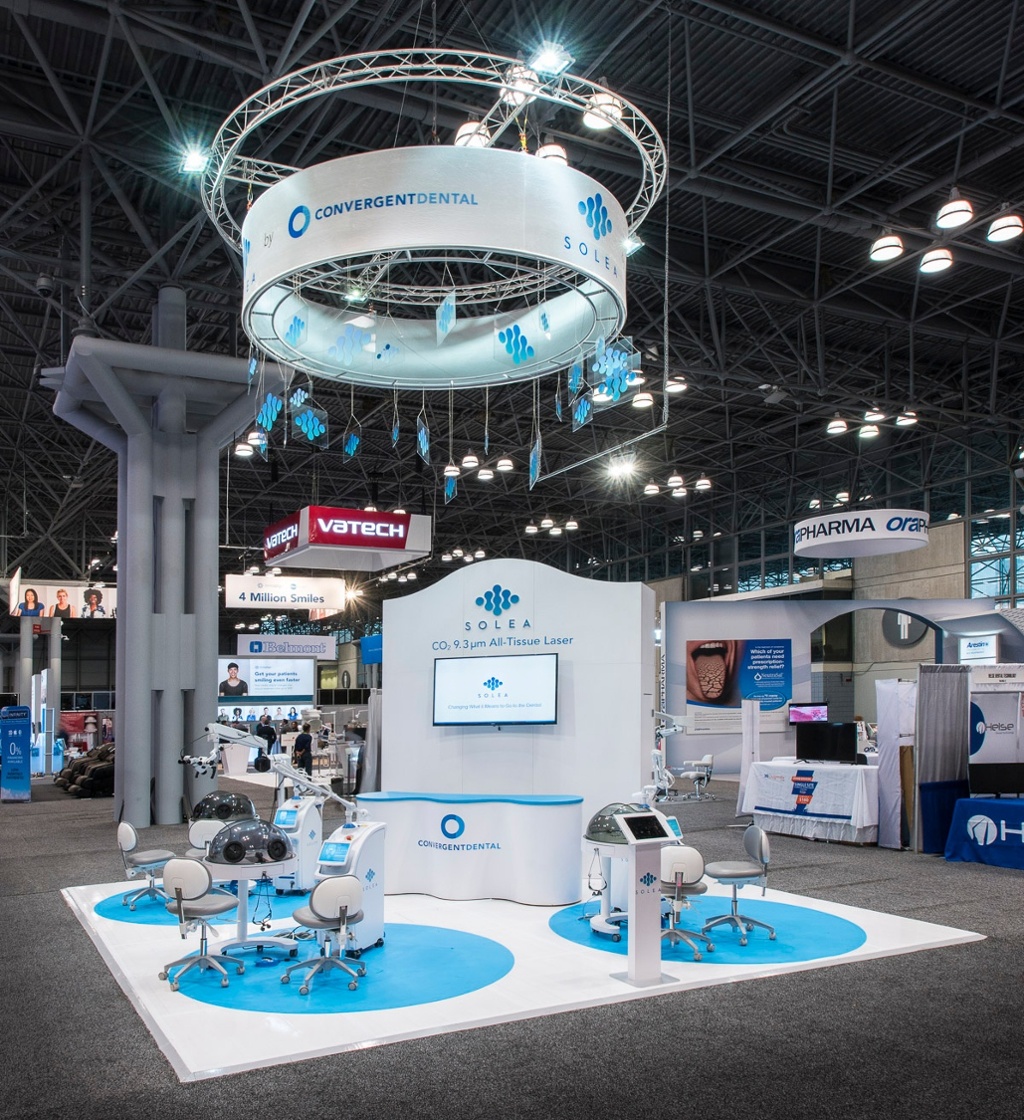 Convergent Dental's 20′ x 20′ exhibit with hanging fabric structure commanded a strong presence on the trade show floor during the Greater NY Dental Meeting held at the Jacob Javits Convention Center. Increasing the footprint of the exhibit and adding new flooring to support its interactive workstations further enhanced the experience for visitors to the booth. Creators of Solea, the first CO2 dental laser cleared by the FDA for hard and soft tissue dentistry, Convergent Dental uses interactive technology and demo stations in its trade show booth to educate professionals about its product's capabilities. Large monitors display educational videos that engage and retain booth visitors waiting their turn to sit at one of the hands-on demo stations.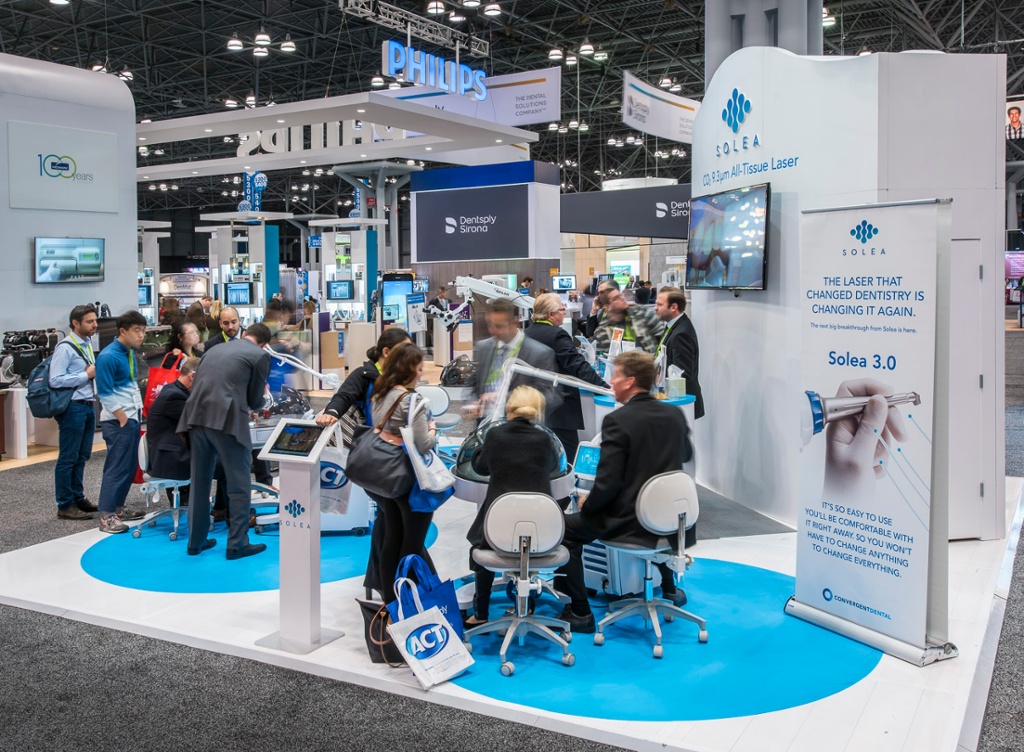 Here's a list of features that Convergent Dental incorporated into its exhibit to meet its trade show display marketing goals.
Add these 6 elements to your existing display and make it one of the best trade show booths on the show floor.
Broadcast Your Brand with a Hanging Sign – A hanging fabric structure branded with your company name suspended above your exhibit will drastically increase the visibility of your booth from a distance.
Accessorize Your Trade Show Display – Expand your 10′ x 10′ trade show exhibit to fit a 20′ x 20′ space by adding accessories such as a counter, iPad holder, seating areas and banner stand.
Use Video to Engage and Educate – Attach a large monitor to your exhibit with videos to draw attention to your booth and to give visitors a reason to linger while waiting to speak to you or to experience a live demo.
Leave a Lasting Impression – Add bright new flooring to define your space and reinforce your brand.
Offer a Hands-on Experience – Interactive product demos generate interest and draw prospects in.
Stow Items – Build ample storage into your exhibit to maximize the floor space in your booth to accommodate more visitors.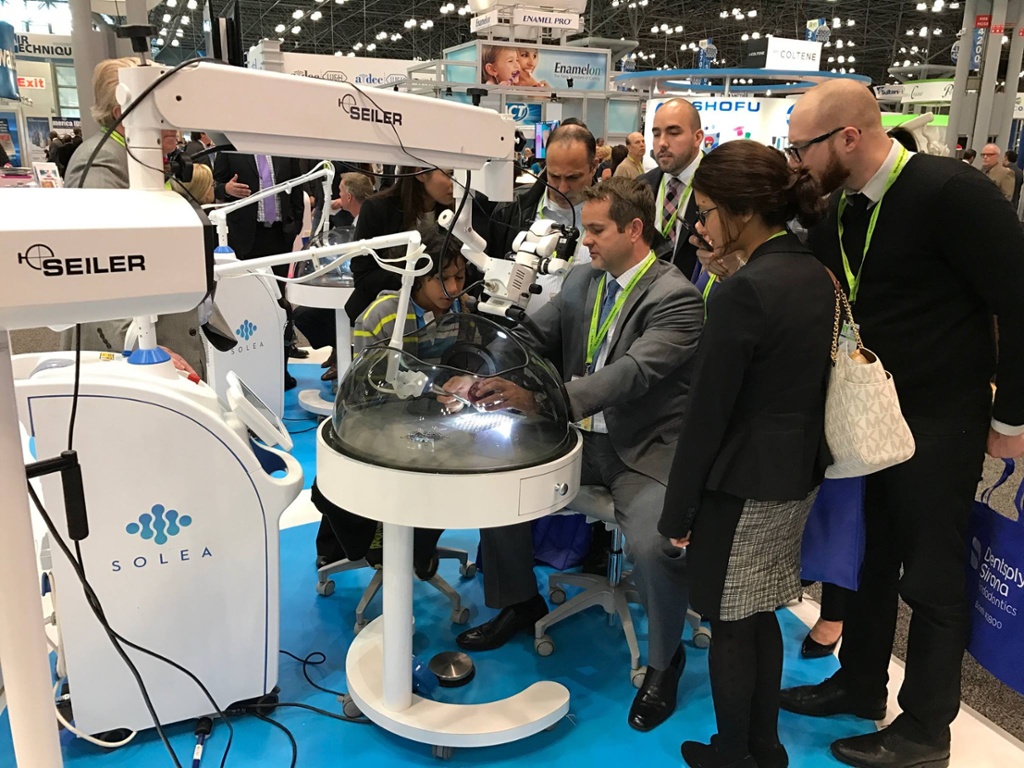 So whether you want to retool your company's existing exhibit, trade in your old model for something new, or rent an exhibit that can be branded and customized for your particular needs, taking a closer look at what other exhibitors, like Convergent Dental, are doing that is working for them can help you decide what creative trade show ideas you want to implement to spring ahead of the competition in 2017.