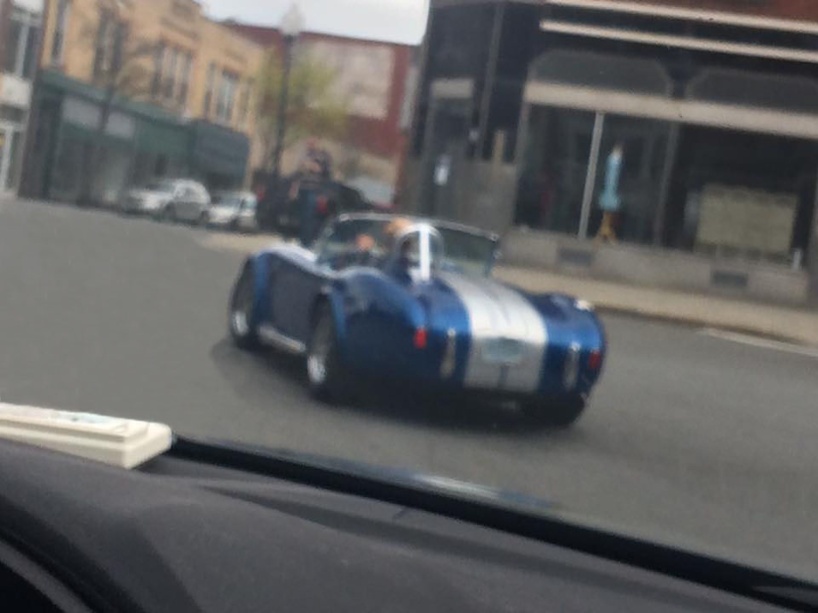 Zero to 60 mph in 4.5 seconds. That's the acceleration time of the 1965 Shelby Cobra 427 S/C Convertible. I was lucky enough to spot one of these beauties and snap a picture recently while passing through Claremont, NH, on my way up to a friend's cabin in Vermont.
It is one of those rare finds, like the time I heard a loud knocking sound outside my front door while living in Mississippi, and I stepped out to see a huge bird about 18 inches tall with a flaming red crest, a pileated woodpecker, hammering away at the big red maple tree in my front yard.
In both cases I was mesmerized by what I saw, lingering as long as I could, absorbing every detail of the experience. Later, I felt compelled to go online and learn more about that beautifully designed car and magnificent-looking bird.
Start Your Engines
If you want your trade show display booth to stop visitors in their tracks like that Shelby Cobra, the key is to understand the basics of exhibit design.
First and foremost you need to:
Clearly identify your trade show display goals and once identified, to
Pick the right tool for the job. The right tool being the best exhibit design, aka layout configuration, to achieve your trade show goals.
So again, the secret to a killer trade show display booth is knowing that your company's trade show goals determine both your booth design and the components you will select to include in that design.
There are three basic types of trade show display goals. Those that:
Wow your audience with an eye-popping design and focal point to highlight your new product, initiative or rebranding.
Engage and educate booth visitors about your products and services through hands-on demonstrations, presentations and networking.
Sell your products and services on the show floor.

One of the most popular exhibit types is the Island exhibit. Like the name implies, island trade show exhibits are surrounded on all four sides by aisles, instead of water. They start at 20′ x 20′ in size and go up from there. Island exhibits are flexible and functional and provide various layout configurations to maximize the visual impact for your business. A major benefit of the island exhibit is that it is open on all sides, making it easy for visitors to enter and explore your booth.
Depending on your needs and budget, you can purchase or rent an island exhibit. The Guide to Island Exhibits describes the three goal-oriented approaches to island booth design and the four most common island exhibit layouts in more depth. Basic building blocks of island booth design include, towers, kiosks, canopies, and hanging structures and signs.
Towers are free standing design structures that contain hidden storage and utilize striking graphics to extend the reach of an exhibit across the exhibit hall.
Kiosks are stand-alone stations that engage visitors with multimedia, touchscreens and video.
Canopies are an architectural design element to add flare to your exhibit and at the same time shade monitors for easier viewing.
Hanging Structures and Signs broadcast your company name, logo and messaging and make your booth visible across the exhibit hall.
Under the Hood
Here are the four typical island exhibit designs and how to choose one based on your trade show exhibit goals:
Centerpiece Layout – is perfect for exhibitors with Wow-oriented goals, offering a single dramatic focal point that captures the attention of attendees on a busy show floor.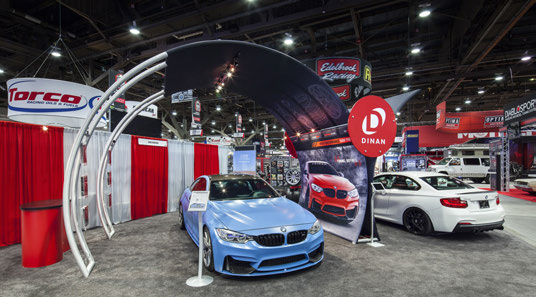 Axis Layout – is effective for exhibitors with Engage-oriented goals, featuring hands-on demonstrations, stand-alone kiosks and counters for your staff to engage and educate show attendees.
Presenter Layout – is ideal for exhibitors with Engage-oriented goals who want to educate attendees with multimedia displays and live group presentations.
Plaza Layout – is best for exhibitors with Sell-oriented goals looking to create a marketplace-like environment with multiple product displays.
So you know what you want to accomplish at your next trade show or event but are still wondering if your current exhibit is the best vehicle to get you there? The Guide to Island Exhibits will help you match up your goals with the right exhibit design and put you on the fast track to achieving your desired results.