Illuminated exhibits are one of 2018's hottest trade show trends. Why? Because companies are looking for ways to maximize their booth design's impact on the show floor without increasing the heft of their exhibit.
LED backlit displays offer a vibrant viable solution.
Studies conducted by the Center for Exhibition Industry Research show you have only 3 to 5 seconds for your booth to catch the eye of a trade show attendee. Backlighting offers a simple, elegant way to achieve this.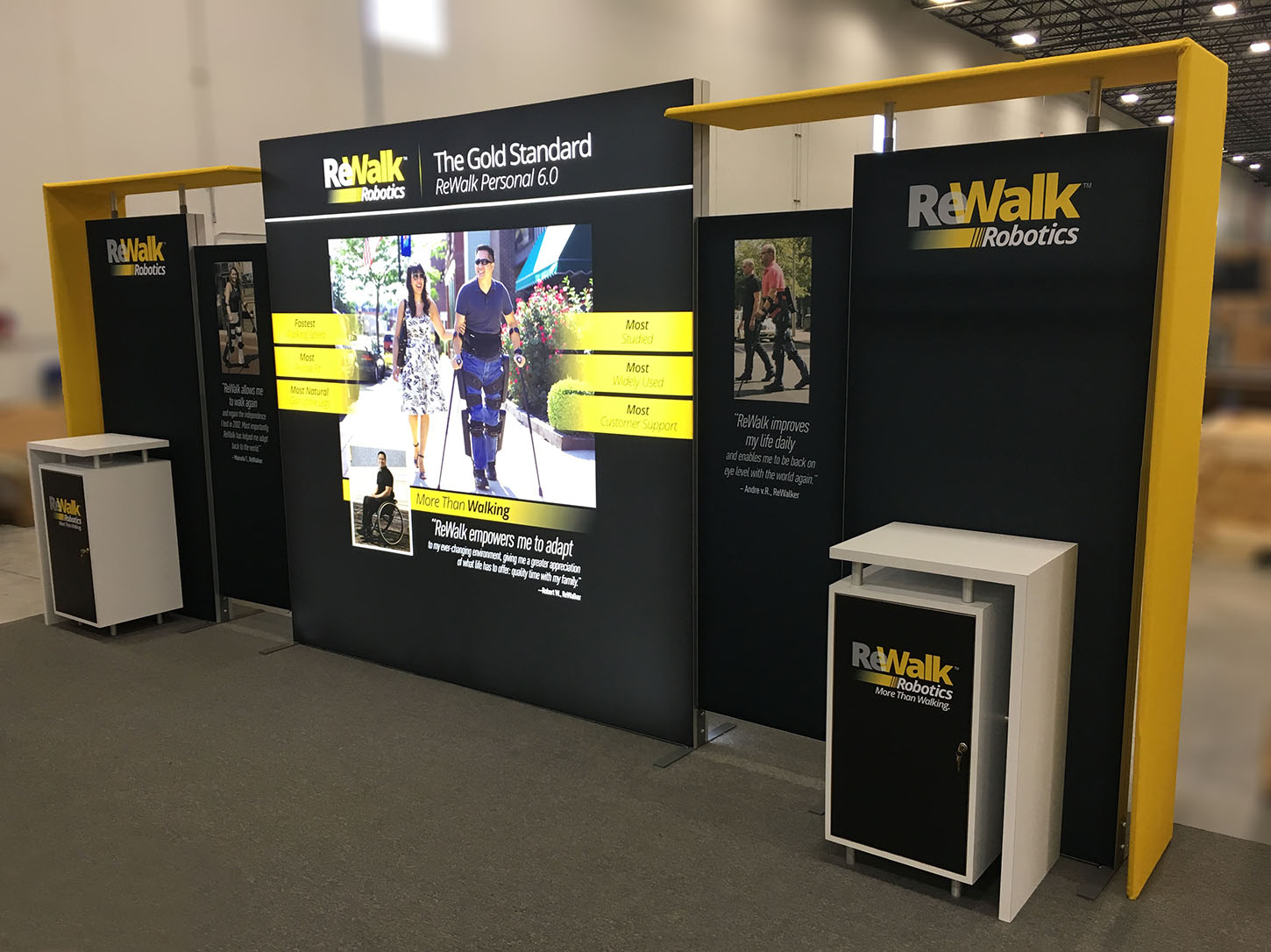 While virtual reality, augmented reality and 3D holographic projection system technologies are impressive, and interactive games, live demonstrations and touchscreen kiosks are effective ways to engage and educate prospects at your booth, LED backlighting has emerged as a trade show trend because it works, especially when combined with large format, dye-sublimation fabric graphics.
For me, it was like watching TV in HD for the first time. I was mesmerized. I couldn't take my eyes off the screen.
Backlit fabric graphics are a visually stunning, powerful way to draw attention to your display. These can take many forms, such as, illuminated walls, backlit panels and scalable light boxes that integrate seamlessly into custom modular and portable displays.
Nimlok's Vector Frame fabric light box was the centerpiece of the 10′ x30′ exhibit we created for ReWalk Robotics, for its booth at the American Congress of Rehabilitation Medicine held in Atlanta last fall. It features a durable aluminum extrusion frame, push-fit back-lit fabric graphics and LED edge lighting. Incorporating a backlit fabric graphic into a 10′ x 30′ inline display produced a striking effect.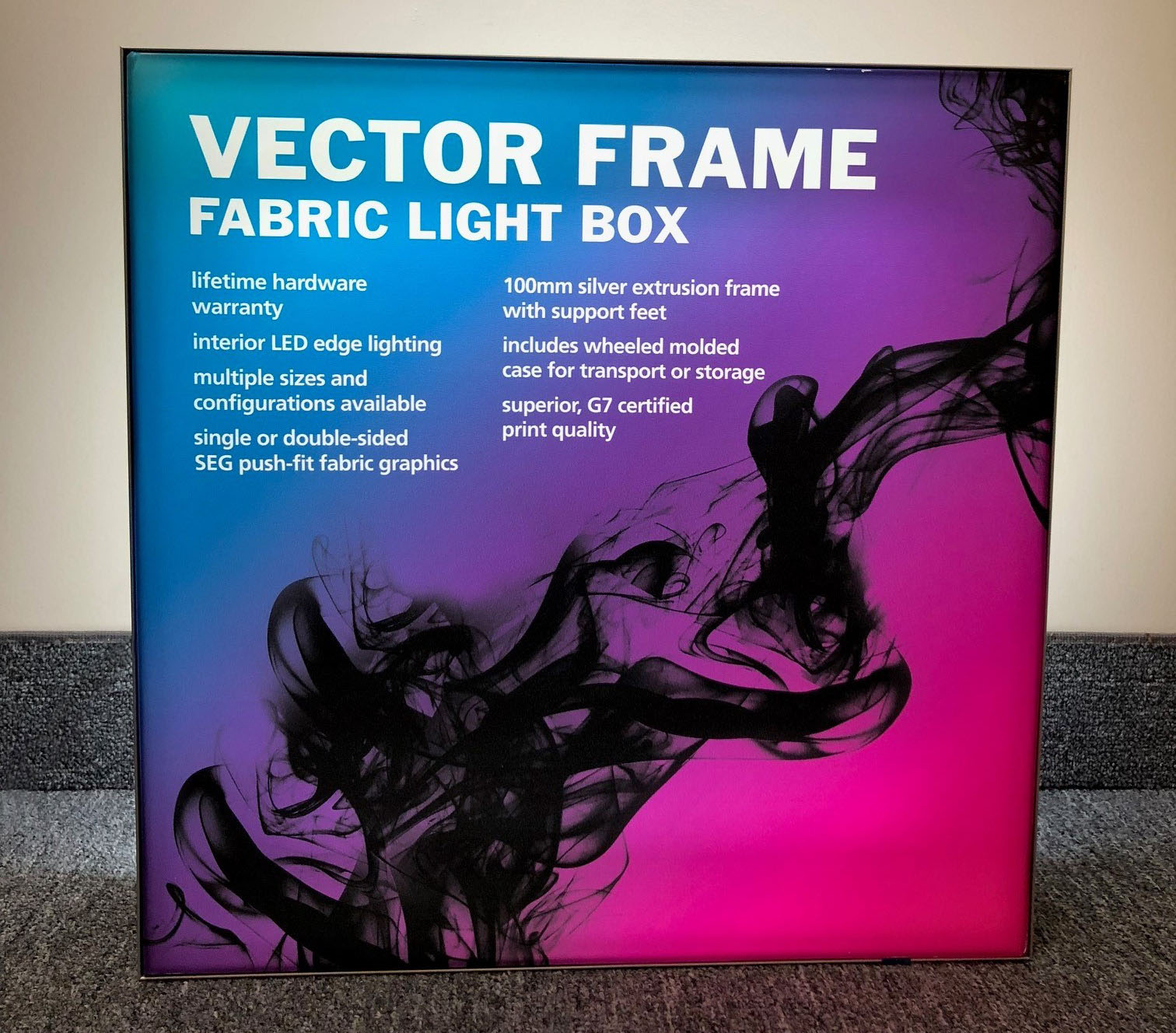 Latest Offerings in Portable Backlit Fabric Displays
Nimlok, Optima Graphics and Featherlite Exhibits have all recently unveiled new portable backlit displays. The displays combine SEG dye-sublimated fabric graphics with LED backlighting to deliver a dramatic look on the show floor in an easy-to-assemble portable package, such as collapsible hopups and aluminum extrusion frame light boxes.
If you're interested in lighting up your trade show booth in 2018 here are some of the latest portable backlit display offerings from Nimlok, Optima Graphics and Featherlite:
Backlit Embrace is a bright collapsible fabric display that comes in straight and curved versions. It is offered in a variety of sizes with single- or double-sided LED backlit graphics, backlit end caps and opaque liner. It requires no tools for assembly, is lightweight and portable. Dye-sublimated fabric graphics bring the best color contrast once lit. Perimeter channel bars connect to frame and hold push-fit fabric graphics. The display comes with a lifetime hardware warranty against manufacturer defects. Wheeled shipping case is included.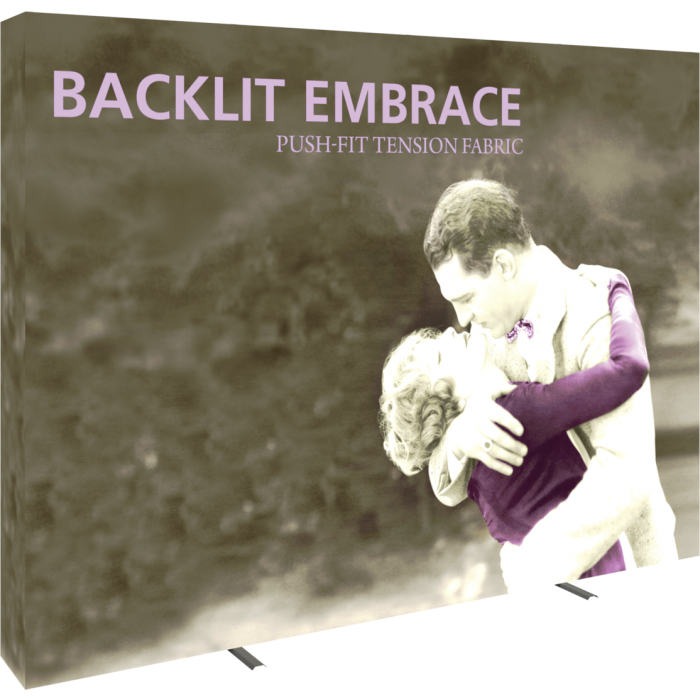 Optima Graphics NEXT! Backlit
NEXT! 10′ Backlit SEG Fabric Lightbox Display is part of the "next generation" backlit display product line. The Next! flat fabric light box pop-up hybrid display system features HD dye sublimation printed stretch fabric and lightweight aluminum modular hardware. It offers portability, toolless assembly and SEG (Silicone Edge Graphics) opaque heavy stretch fabric. Its hybrid hardware design eliminates fabric graphic mural wrinkling, creasing and improper fitting issues.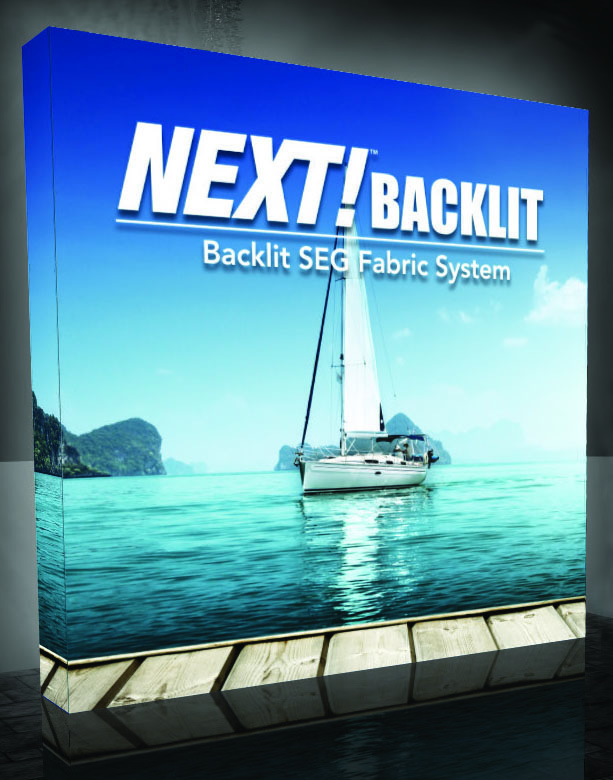 Radiant emphasizes scalable light box elements that interface with all Featherlite portable technologies. It features a toolless assembly and packs neatly into a portable case-to-counter. Bright LED light strips and transformers inside the frame ensure the graphics are lit at the perfect angles.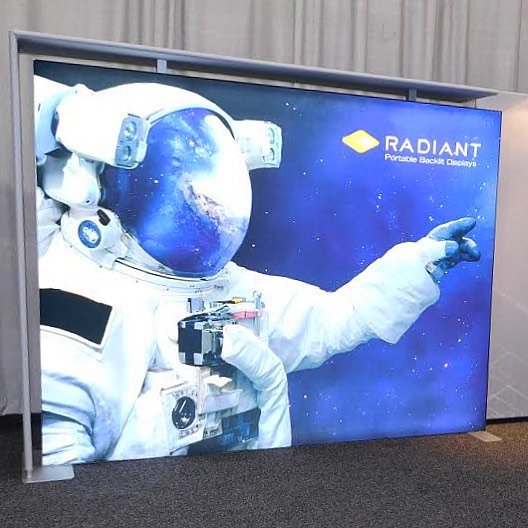 Do you want to rebrand an existing exhibit or do you prefer a booth rental? Your exhibit partner can work with you to come up with a killer trade show booth design that incorporates backlighting, using scalable light boxes and push-fit fabric graphics to update your messaging and illuminate your brand.
Maxon Precision Motors chose a custom modular backlit display to illuminate their messaging and their brand.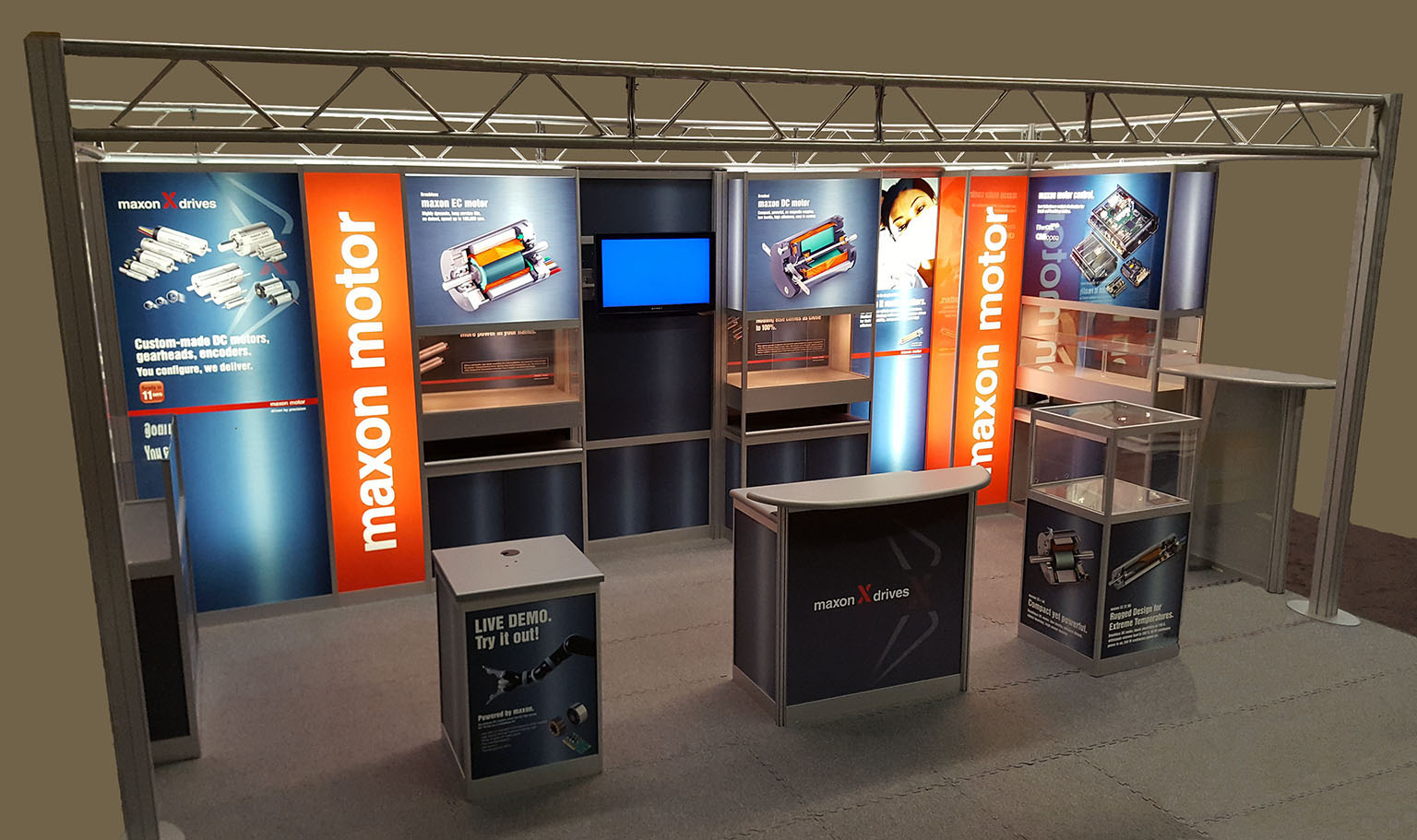 If you've been searching for a simple design solution that will leave a memorable impression on booth visitors, distinguish you from the crowd and establish your company's trade show presence at major events, backlighting is worth exploring.
Whether you go with one of the hot new portable backlits, or choose a rental booth, adding backlighting to your trade show display design will pull prospects in to your booth. The rest is up to you.