Hurricanes Harvey and Irma are painful reminders of the devastating impact that climate change has on our environment and our communities. If you're looking for ways to save some money and save the environment at the same time, consider purchasing used exhibits and reskinning them instead of buying new.
Oftentimes, you can find a like-new trade show display for half the cost of a brand new one. This is a win-win. You are reducing your company's carbon footprint by keeping perfectly good exhibits out of the landfill and redirecting those saved dollars into other areas of your trade show marketing budget that you've wanted to grow, such as digital technology. A bigger booth, combined with adding more engaging technology in that booth, like interactive video kiosks, will increase your brand's visibility on the trade show floor and the overall effectiveness of your marketing plan.
Making the Right Choice
What is the best type of exhibit to buy used? Without a doubt, custom modular exhibits give you the most bang for your buck, especially if your booth size tends to vary from event to event. They are highly reconfigurable, which means one exhibit can be used at multiple shows and can be adjusted to fit almost any size booth space.
You may want a 10′ x20′ inline exhibit or a 20′ x 20′ island booth at a major industry event and opt for a 10′ x 10′ configuration for a smaller conference or meeting. This flexibility will allow you to reduce your exhibit inventory and save on storage costs. Or maybe you're finally ready to take the leap and buy that double decker custom exhibit that you've been eyeing for so long. Shop around and you may find a used booth is the solution.
The popularity of custom fabric printing, in particular, dye sublimation printing, which produces sharp vibrant color graphics up to 10 feet wide, makes it possible for you to completely change the look of your pre-owned exhibit to reflect your messaging simply by replacing the graphics.
Going Green
Did you know that most of the polyester fabrics made today used in dye sublimation printing come from a combination of "post industrial" and "post consumer" recycled plastic products? There's even a 100% eco-friendly fabric made from 100% post-consumer recycled plastic bottles.
Going green in your trade show marketing program is not only good for the environment. It turns out that putting the "reduce, reuse, recycle" mantra into action in your business by reusing elements of your old exhibits, such as counters, kiosks and monitor stands instead of trashing them, is also good for your bottom line.
Often we have clients who will purchase a new exhibit and ask us to sell their used exhibit for them. For example, this 10′ x 20′ pre-owned custom modular exhibit includes almost new modular extrusion system with fabric graphics, truss across front, lighting, cabinets, free standing monitor stand, comfort tile flooring and monitor bracket to attach to exhibit. It also features a pedestal, counter and workstation. The exhibit was used a total of three times and is in excellent condition. It was purchased in 2009 and was used twice in 2009 and once in 2010. An exhibit like this pre-owned exhibit will sell for about a third of the cost of what it sold for new.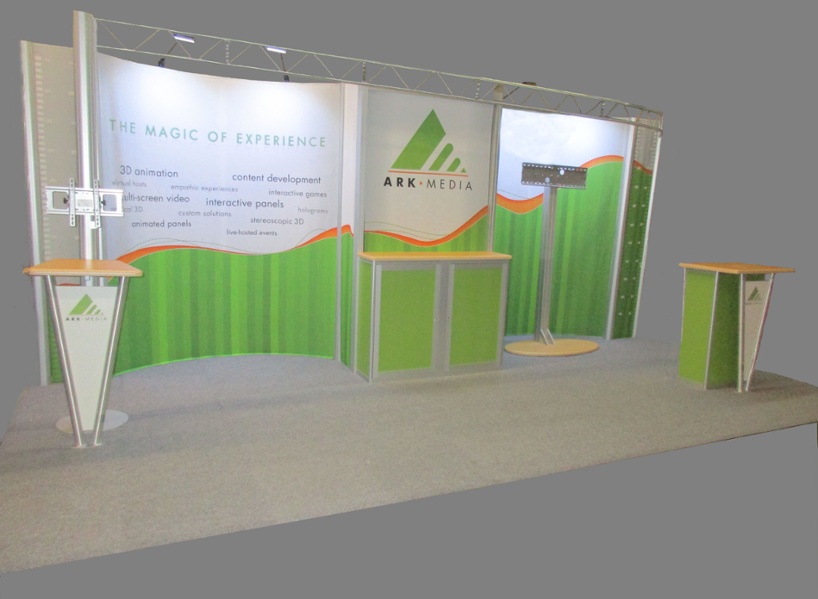 5 Key Questions to Ask a Potential Exhibit Partner
How long have you been in business?
Do you offer services such as design, installation and storage?
Will you provide me with references from past clients?
Will you provide me with a price list of fees and services?
Do you have a portfolio of past projects you have designed?
It's important when shopping for a used exhibit to find out if your exhibit partner can refurbish and rebrand the display for you. Also make a list of what other types of trade show services you may need such as storage, installation and dismantle and ask if they can provide these. Find out how you can become a better exhibitor.