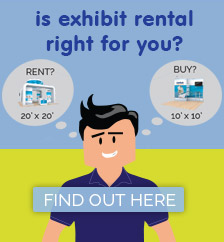 Download Your Guide!
The Exhibit Rentals Guide identifies the 3 key factors that determine whether exhibit rental or exhibit ownership is the best solution for showcasing your company's products and services at events.
A series of handy charts compare 1) the time required to produce a rental display vs. a purchased display, 2) the cost of renting vs. purchasing an exhibit and the expected cost savings and 3) adaptability and customization advantages.
In this guide you will learn:
the types of exhibit rentals available
turnaround times for rentals vs. owned
cost comparison of renting vs. owning